Elton John: Why I Waited To Come Out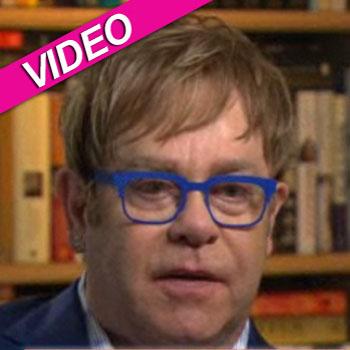 Elton John reveals, for the first time, why he waited so long to publicly come out -- he says, no one ever asked him!
The Rocket Man singer -- speaking Tuesday to TODAY's Matt Lauer -- says he never thought it necessary to make a public declaration as he was living an openly gay lifestyle among his family and friends. However, that all changed in 1976 when a journalist finally asked him if he was gay.
Article continues below advertisement
"Nobody asked me,"  John, now 65, explained. "When (journalist) Cliff Jahr asked me in Rolling Stone, 'I'm gonna ask you a question, but if you don't want to answer it, I'm gonna turn the tape recorder off.' And I said, 'You're gonna ask me if I'm gay or not.' And he said, 'How did you know that?' I said, 'I've been waitin' for people to ask me this. It's not exactly a secret. I live with my manager. I'm openly gay outside. I don't have a girlfriend. And nobody's ever actually out -- I just thought it was common knowledge.'"
John -- who's currently promoting his new book, Love is the Cure: On life, loss and the end of AIDS -- also talked about his unique friendship with Ryan White, a courageous boy from Indiana who contracted AIDS from a blood transfusion. (White was diagnosed in 1984 and died in 1990.)
"I just felt for him, this kid who was -- you know, just because he had the HIV virus, his family were being discriminated, he was forced to move to another town, bullets fired through their windows, firebombs through their letterbox. Wasn't allowed to go to school," John told Lauer.
Article continues below advertisement
The iconic singer also revealed that his friend, the late Princess Diana, wanted to work with his AIDS foundation.
"She wanted to do something desperately for the AIDS foundation," John said. "She was amazing, because she was the first person of the royal family or someone that famous to go out into an AIDS ward and touch people and hold them and hug them. And, you know, at a time when people, 'Ooh, don't touch them, you know, you might get AIDS.'
"She was fearless in that respect. And she was fearless in anything she did, whether it came to landmines or whether to AIDS. She was genuine and so 150 percent behind the cause."
Part two of  Lauer's interview with the Benny and the Jets singer airs Wednesday on TODAY.
Visit NBCNews.com for breaking news, world news, and news about the economy
RELATED STORIES: