Exclusive
Tara Durr And John Presser Show Off Their Bachelor Baby!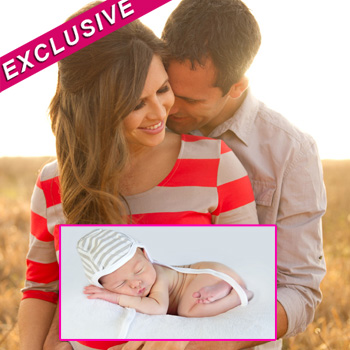 A Bachelor baby is born!
Former Bachelor and Bachelorette cast members Tara Durr and John Presser, who tied the knot in November 2010, gave birth to a bouncing baby boy on Friday, June 29 and Star magazine has exclusive photos and details from the big day.
Little Warner Griffin was born 7 pounds 9 ounces, but according to Tara, their little bundle of joy came totally unplanned. "We had such a busy year, we got married, built a home and then discovered on our first year anniversary trip to Hawaii that we were pregnant!" She told Star.
Article continues below advertisement
"We both always knew we wanted kids, so we were pleasantly shocked!" Tara, 31, said. "We kept it a secret from our Bachelor friends and revealed my baby bump at the fundraiser in Las Vegas in January this year. They couldn' t believe it!
EXCLUSIVE PHOTOS: Bachelor Reunion Pics
"I thought for sure I was having a girl so I bought all girl clothes, I just couldn't resist!" Tara admitted, but said she is thrilled to have a boy.
John said he already got a taste of what it is like to have a son when the little guy peed taking his first bath, "It was really funny. He cried at the hospital when they gave him a bath but at home he just looked at me smiling and peed in my mouth!
"Our whole family is a great support and I'm sure my parents would move into the guest room to help if I gave the green light, but John and I are doing really well," Tara said.
Article continues below advertisement
"She never even rested after the baby was born she just immediately kicked into mommy mode," John 33, raved about his wife.
While Trista and Ryan Sutter have been the only Bachelorette couple to have gotten married and gone on to have children, there is one other baby that came from the hit dating show -- Season 4 Bachelorette winner Jesse Csinscak and his wife Anne Lueders have an 18-month-old son Noah.
Chris Lambton and Peyton Wright married in May of this year and Holly Durst and Blake Julian just tied the knot last month so Tara and John feel there are even more Bachelor babies on the horizon.
"With all the new couples and now Jp and Ashley, who are so in love and will definitely marry soon, we will have loads of Bachelor babies," Tara said.
"The next step will be a Bachelor baby reunion!" John added.