Exclusive
Chris Harrison Slams Roberto Rumors! 'He Is Not The Bachelor'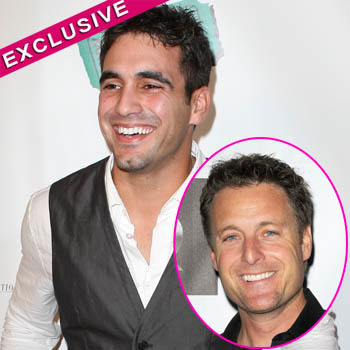 Bachelor fans are fervent that hunky Roberto Martinez is going to be the main man handing out roses next season, however host Chris Harrison has adamantly denied the rumor and claims the prestigious position is still vacant.
"I will confirm it, he's not the Bachelor, we've not named anybody to be the Bachelor yet," Harrison told RadarOnline.com in an exclusive interview at the ESPN The Magazine 'Body Issue' launch party in Los Angeles on Tuesday night.
Article continues below advertisement
"We don't need to, we don't name anybody so early," he explained. "I love the speculation and that people are talking about our show but we just don't need to make decisions yet."
Of course, this doesn't mean that Ali Fedotowsky's former fiance won't be picked for the part further down the casting process, as the longtime host is notoriously close-lipped about leaking secrets on the show, but he did give Roberto his seal of approval if he is chosen.
"He is a great guy, I love Roberto. First of all I hear he's stunningly handsome, and he's a very nice guy, he has a lot to offer and would be a great Bachelor. I would put my vote behind him but luckily I don't have a vote," he laughed.
As RadarOnline.com previously reported, even Ali claims she would be OK with the casting move, recently telling Wetpaint Entertainment, "I just hope he's happy."
Harrison hinted that the ABC producers may still pull a rabbit out of their hats and go with a completely fresh face for the show. "We would absolutely have an unknown again," he told RadarOnline.com.
Article continues below advertisement
EXCLUSIVE PHOTOS: Bachelor Reunion Pics
"We are always casting and we are always scouring the country and the world for new people. If we found someone who we thought was a home run and he was an unknown we would absolutely make him the Bachelor," Chris explained.
While he is coy about Roberto, one thing Harrison was very open about was his excitement of Bachelor Pad 3, which he promises will be raunchier than ever.
"The Bachelor Pad premieres on July 23 and it is so good. I love it!" he gushed.
"It is such a guilty pleasure even for me to host, and this season -- unlike last year where everyone was coupled up early -- was mayhem. Just get a cheap box of wine and sit back and enjoy," he advised viewers, emphasizing a box, and not a bottle of vino!
RELATED STORIES: