The Bachelorette: Which Fan Favorite Was Sent Home?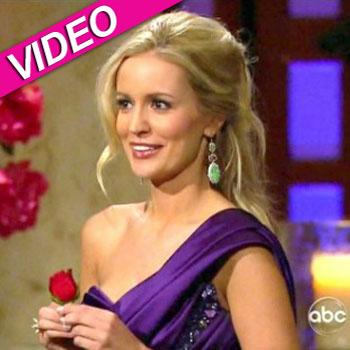 Taped in Croatia, Emily had one-on-one dates with Travis and Ryan, the hunk who many thought would come out on top.
The date with Travis lacked in romance, getting him a ticket home. She went on a group movie date with the remaining six fellas to see Disney's Brave, after which, they changed into kilts.
As for Ryan, he pulled out all the stops he thought would charm her, presenting a list of a dozen things he wants in a woman and calling her akin to "a trophy wife" -- not a good move.
Article continues below advertisement
"Can I be honest with you? Sometimes I feel like when I'm around you I find myself feeling the need to be perfect all the time," Emily told him. "I don't want to be someone's mold -- I don't want to be married because I fit into someone's mold."
"That is a fair statement," Ryan said.
Emily continued, "On the top of my list would be a loving family, not a perfect one -- that would be the top of my list, and it wasn't on yours. I don't know if what we want out of a relationship is the same ... that is why I can't give you the rose tonight."
As for the rose ceremony, making the decision wasn't as easy: Not able to choose between John and Doug, Emily sought the ear of Chris Harrison, who gave her an extra rose, putting off an elimination until next week.
As RadarOnline.com previously reported, the 26-year-old beauty became the first single mom in the show's eight-season history, as she has a 6-year-old daughter named Ricki. Emily's former fiancée, NASCAR driver Ricky Hendrick, died in a 2004 plane crash while she was pregnant.
Article continues below advertisement