Elton John & David Furnish Selling Their West Hollywood Apartments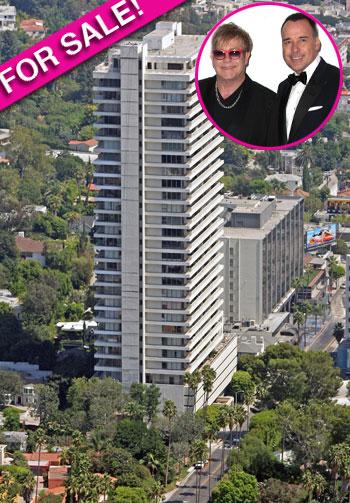 Elton John and David Furnish are hoping to unload their condominium apartments for a stunning $5.1 million.
The pair own two units in celeb-favorite Sierra Towers, the building where Cher and Joan Collins reside, and where Lindsay Lohan once called home.
One apartment has one bedroom and one and a half baths in 1,831 sq. ft. and was featured in Architectural Digest. The asking price is a jaw-dropping $3.5 million.
Article continues below advertisement
The second apartment is also one bedroom, one a half baths in 1,151 sq. ft. The apartments adjoin and could be turned into a single unit.
Elton and David have decided to move on from the high rise, despite its drop dead views of Los Angeles out to the ocean.
Now that they're parents, they've decided a home with a yard is a better fit, and recently closed on a 4,200 sq. ft. house in Beverly Hills that sits on half an acre. It was listed for $7.7 million.