Exclusive
Hollywood Hermit Comes Out Of Her Shell! Cher Dotes On Fans & War Vets In Rare Appearance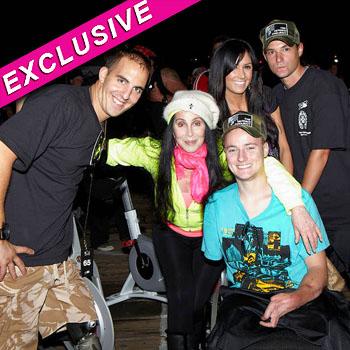 Cher may not come out of hiding very often, but when she does, it's all about the fans.
Using the opposite fan tactics of Adam Sandler, Kate Winslet and Sandra Bullock, the 66-year-old icon hit two Hollywood events this week, where she dedicated her time to taking photos with disabled veterans and signing autographs with her fans, and RadarOnline.com has the details.
Dressed to sweat in spandex workout gear, the still-fit star hit Equinox's special 9/11 benefit CYCLE FOR HEROES on the Santa Monica Pier on Tuesday night, astonishing the party-goers by her laid back and friendly attitude.
Article continues below advertisement
"Everyone was shocked to see a superstar like Cher, looking so casual and normal on the Santa Monica Pier," a source who was at the event tells RadarOnline.com exclusively. "There wasn't an ounce of diva in her."
After hopping on a spinning bike, the legendary performer dedicated her time to signing autographs for fans and taking photos with disabled veterans involved in The Heroes Project, an organization taking war veterans on mountain climbs to the 7 summits of the world.
"She was super sweet," the source says. "Fans kept walking up to her and asking for autographs and she happily obliged. She also took photos with everyone who asked."
Later in the night, Cher tweeted about the heartwarming event.
"There were so many ppl there but i wanted to sit down quietly & speak with this boy! I met a Totally cool young man w/all his limbs gone."
The following night, Cher glammed up in her attention-grabbing and trademark style for The Book of Mormon's opening night at The Pantages, but her getup (including a Philip Treacy hat) was the only thing diva about her.
Article continues below advertisement
"Cher was extremely nice! I asked her for a photo right off the bat and she didn't even hesitate; she came right over and posed with me," fan Lucas Boucher exclusively told RadarOnline.com.
"She signed autographs for everyone who was swarming around her. She just told everyone to stay calm and she'd continue to sign as long as possible, and even signed multiple things for some people.
"Cher doesn't really go out much, so we were all so excited to meet her. She laughed when I told her that meeting her was my big gay dream!"