Cher, Ellen, Julia & Reese Support President Barack Obama At L.A. Fundraisers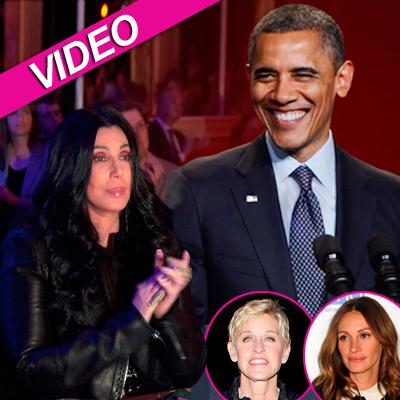 Weeks after emerging as the first sitting commander-in-chief to support same-sex marriage, President Barack Obama received a hero's welcome from members of the gay and lesbian community at a Los Angeles fundraiser Wednesday that an estimated crowd of 600 showed up for -- including mega-stars like Ellen DeGeneres and Cher.
The president received a standing ovation at the LGBT Leadership Council 2012 gala held at the Regent Beverly Wilshire Hotel, which was also attended by stars such as Modern Family's Jesse Tyler Ferguson, transgender activist Chaz Bono, singer Belinda Carlisle, Glee's Max Adler, George Tekai and NCIS' Pauley Perrette.
Article continues below advertisement
Mr. Obama called Ellen a "wonderful friend" and Glee's Darren Criss -- who performed at the event in place of an ill Pink -- "an outstanding talent."
In a 20-minute speech there, he said any efforts to bring back the ban of openly gay members in the military is "not something I will tolerate."
The president wasn't done addressing his A-list base, as he next ventured to Glee creator Ryan Murphy's house, where an estimated crowd of 70 -- including Julia Roberts and Reese Witherspoon -- attended a $40,000-a-head fundraiser.