Rumor That Cher Died Spreads After Kim Kardashian Gets Involved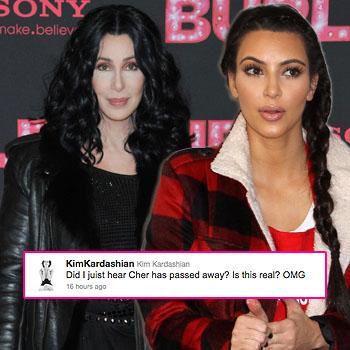 By Amber Goodhand - RadarOnline.com Reporter
Fake celebrity death claims spread like wild fire on Twitter, and when you have 12.8 million followers like Kim Kardashian, it just adds fuel to the fire.
On Thursday, Cher became the latest A-lister to fall victim to a faux death — which her publicist has since dismissed as not true — and even fellow celebrities became concerned.
Kim, 31, jumped on the bandwagon Thursday night questioning her Twitter followers: "Did I just hear Cher has passed away? Is this real? OMG."
Article continues below advertisement
While it's unclear where the death rumor originated, Kim's mass amount of followers undoubtedly helped to spread it once they heard about it.
"I hope this is a twitter joke and not true. I don't see it on the news anywhere. I'm praying its not true," Kim continued.
"Can't believe people would make up a sick joke like Cher died. These people need to get a life! Thanks twitter for clearing that up!"
If there's any question in your mind, rest assured, Chaz Bono's mother is still alive and kicking at a healthy 65-years-old!
MORE ON:
hollywood happenings