Alec Baldwin Still Fuming Over American Airlines Fiasco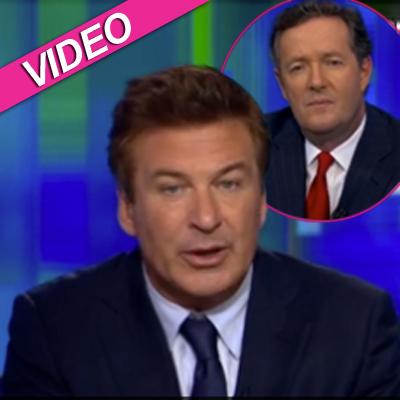 It's been more than a month since Alec Baldwin was booted off an American Airlines plane for disobeying a flight attendant, and Piers Morgan Wednesday picked the 30 Rock star's scabs regarding the December incident.
"My advice to people is when you get on a plane, turn off your phone. Try with all of your might. Try with all your strength and inner resolve," the 53-year-old Long Island native said in a tongue-and-cheek manner, before rehashing the fiasco.
Article continues below advertisement
Baldwin noted that plane was at the gate and already 45 minutes late prior to his run-in with the attendant, who he said doled out a "very, very kind of a Soviet-level of enforcement of the rules" he characterized as "very harsh and very, very snappy.
"And I reacted badly to that. I got really, really, very upset. And then I was asked to get off the plane and get on another plane," he said, noting that rules for flights that haven't taken off yet are "kind of stupid and inane."
The notoriously hot-tempered actor went on to say that he was singled out by the attendant -- who he described as a "retired Catholic school gym teacher from the 1950s" in a tweet just after the incident.
Baldwin said the woman "had kind of marched directly at me and toward me and singled me out ... maybe she is kind of a Christian conservative Republican who's, you know, on the payroll there."
The Glengarry Glen Ross star added he was not the only one on the flight passing the time on his smart phone.
Article continues below advertisement
Watch the video on RadarOnline.com
"I was very embarrassed and I was very upset because I thought, you know, first of all, that there were people -- I mean, the joke obviously when I got off the plane was there were four other guys Twittering from their cell phones as I was getting kicked off the plane for using my cell phone," he said.
The lesson from all of this?
"The truth of the matter is that, in the end, turn your phone off when you're on the plane," Baldwin said. "That's what I've learned, literally, really."