Exclusive
That's Not Very Grown Up! Adam Sandler Accused Of Nearly Mowing Down 'Snap Happy' Fan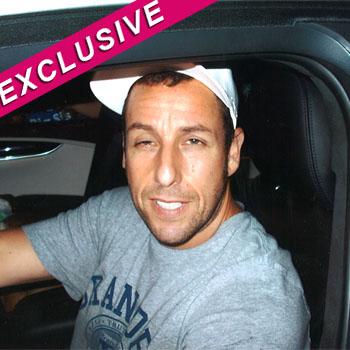 By Adriane Schwartz - RadarOnline.com Reporter
An Adam Sandler fan claims she felt the full wrath of the funnyman after trying to take a photo of the Hollywood star filming his latest movie, RadarOnline.com is exclusively reporting.
Denise Kodes says she attempted to snap Sandler, 46, on the Massachusetts set of Grown Ups 2 when he nearly flattened the superfan with his car.
Worse still, Denise claims she dropped her camera during the incident, smashing it to pieces and when she returned to the scene of the crime the next day to take another picture, Sandler rudely declined!
Article continues below advertisement
"Adam was filming scenes from Grown Ups 2 near my home, and he refused to give me his autograph," Denise tells RadarOnline.com
"So I decided that I wanted to get a picture of him. As I was just about to take it, his car sped towards me and made me drop my camera. It broke instantly, and I didn't get a shot.
"The next day, armed with a new camera, I decided to go back to the set because I wanted a photo as a keepsake.
"When Adam saw me he went ballistic. He said I had to leave and angrily asked why I didn't get the picture the day before. I told him about the broken camera and said I don't know why he's so mean to his biggest fan. He then barked, 'Fine, take the picture already.'"
Denise returned home that night, shaken by her encounter and tearfully relayed her ordeal to her husband Donald. Upset for his wife, Donald decided to pay a visit to Sandler the following day.
Article continues below advertisement