Celebrity Twitter Pics Of The Week! The Good, The Bad & The Outrageous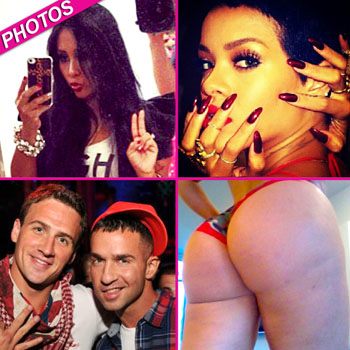 By Leah Ornstein - RadarOnline.com Features Editor
Hollywood stars were snap-happy this week!
From showing off their hot bodies and adorable babies to candid snaps at swanky nightclubs, celebrities were not bashful about sharing their personal pics on social media this week, and RadarOnline.com has all the good, the bad and the most outrageous celebrity Twitter pics of the week in our special Friday feature.
How does Hollywood socialite Paris Hilton handle a scandal? By going on vacation with her much-younger boytoy and tweeting a ton of photos of her hot body on the beach! The 31-year-old enjoyed a Hawaiian getaway this week with 21-year-old male model beau River Viiperi, stripping down into a variety of skimpy bikinis and sharing photos with her fans.
Article continues below advertisement
For the rest of the good, the bad and the most outrageous Twitter photos of the week, click here.