Casey Anthony Offered $20k To Fight Michelle 'Bombshell' McGee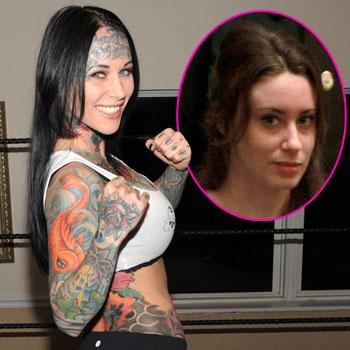 Casey Anthony is about to get her butt kicked!
The most hated woman in America has been offered a whopping $20,000 to fight in a celebrity boxing match with Jesse James' ex-mistress, Michelle 'Bombshell' McGee.
"I want this match!" a de­termined McGee exclusively told the National Enquirer. "I know she's lying about killing her daughter Caylee. I want to kick her ass!"
Michelle is no stranger to the boxing ring; she's already had easy ring victories over porno queen Gina Lynn and alleged Mel Gibson mistress Violet Kowal, revealed Damon Feldman, the promoter who intends to broadcast the match.
Article continues below advertisement
He says that he's willing to give Casey $10,000 personally and another $10,000 to her favorite charity to go three one-minutes rounds for a TV special to be taped in Fort Lauderdale on November 3.
The two women have similar body types, with Casey at 5-foot-2 and 115 pounds while Michelle stands 5-foot-3 and weighs in at 120, but that is where Feldman says the similarities end.
"Michelle is tough," says Feld­man. "She can whip Casey."
Casey has been in hiding since she completed her probation in late August for check fraud charges, but Feldman says he's already contacted her reps and "now we're just wait­ing to hear from her."
For more details on the boxing match between Casey Anthony and Michelle 'Bombshell' McGee pick up the latest issue of the National Enquirer on newsstands Thursday.
RELATED STORIES: