Bombshell McGee And Rita Rampage In Lingerie Pillow Fight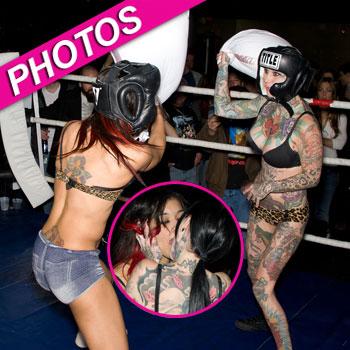 Michelle 'Bombshell' McGee and Rita Rampage took it to the ring Friday, fighting -- and kissing -- in what was billed at the 2012 Lingerie Female Pillow Fighting Championship.
Bombshell and her tattoo model opponent both put up a good fight, except when they decided some girl-on-girl kissing was more what the crowd wanted.
The inked-up ladies also took their act to the mat for some faux-sex maneuvers.
Article continues below advertisement
A few hundred spectators showed up for the event in Essington, PA., including Michaele Salahi's estranged husband Tareqi who was there to support Bombshell.
RELATED STORIES: