Amanda Bynes' Alleged Hit & Run Victim Demanded $15k Settlement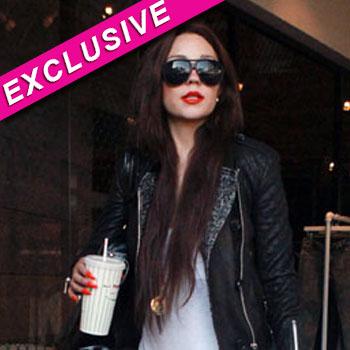 Article continues below advertisement
Bynes, driving her black BMW, allegedly rear ended Bolinger in her Toyota Corrolla on August 4 and after getting out of her vehicle to inspect damage the actress drove away. Subsequently, Bynes, who was arrested for a DUI in April, was also charged with two hit & run misdemeanor charges stemming from separate incidents.
DOCUMENTS: Kisa Bolinger Files For Bankruptcy
According to court docs, Bolinger's Chapter 7 bankruptcy was finalized just two days before the accident, and she had $10k in debt.
"Bolinger wanted a $15k settlement from Amanda even though she suffered no injuries and her car had $1,500 in damages," a source close to the situation tells RadarOnline.com. "Amanda and Kisa both have the same insurance company and Amanda's insurance had already paid the claim for Kisa's damages. Amanda didn't pay the $15k because the damages Kisa incurred had already been paid for. Kisa has since given an interview to a tabloid website and Amanda's advisers believe that she was paid for that interview. If Amanda's hit and run cases go to trial, her lawyer will certainly ask Kisa if she was paid for the interview and why she demanded a $15k payment."
Article continues below advertisement
As previously reported, Bynes has been living as a virtual recluse and has had absolutely no contact with her parents for months. Media reports on Wednesday stated that Amanda's parents had moved from Texas to California to be closer to their troubled daughter, after her bizarre behavior following her DUI and hit and run criminal charges, multiple sources close to the actress tell RadarOnline.com that is categorically false though.
"Amanda's parents had moved back to California long before she got arrested for her DUI," a source close to the situation previously told RadarOnline.com. "Her parents have been living in California for a significant amount of time before her legal problems began. Amanda hasn't spoken to her parents in several months and she has been living like a recluse, which does have her parents extremely concerned. Amanda just cut them out of her life entirely, and she doesn't return their phone calls or e-mails. There wasn't a fight or any ongoing unresolved issues between Amanda and her parents, she just axed them out of her life for no reason."
Article continues below advertisement
Bynes, 26, was pulled over and cited once again for driving on a suspended license in Burbank last Sunday, which resulted in her car being impounded.
Days before her car was taken away from her, Bynes was photographed driving illegally last Tuesday on that suspended license and allegedly smoking drugs from a pipe in her car.
RELATED STORIES:
Amanda Bynes' Bizarre Pinching Fight With Paparazzo Caught On Camera