Amanda Bynes' Bizarre Behavior At West Hollywood Boutique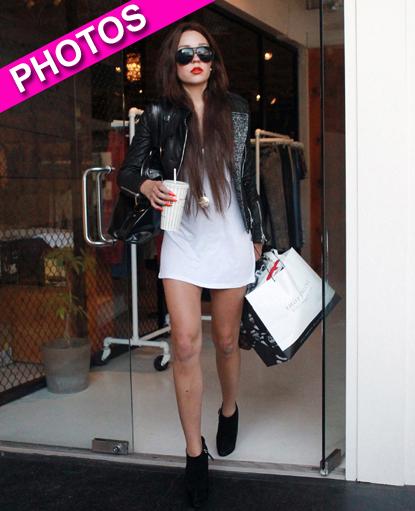 Amanda Bynes reportedly locked herself in the dressing room of a West Hollywood fashion boutique for nearly two hours Monday, and RadarOnline.com has the latest pics of the embattled actress as she left the store.
The What I Like About You star,26,was in the dressing room at Kin, according to reports, repeatedly telling store clerks she needed more time. The clerks became concerned when they heard repeated banging noises coming from the dressing room.
Article continues below advertisement
Bynes -- sporting dark locks and shades -- left the clothing store in a taxi cab following the bizarre incident, the latest in a string of them involving the former Nickelodeon star.
As we previously reported, a source tells RadarOnline.com the 26-year-old "has no plans to go to rehab.
"She doesn't need rehab either," the source added. "What she truly needs is a mental health evaluation her parents and friends are extremely concerned about her well-being.
"Amanda has no grasp about the seriousness of the criminal charges she is facing, from her DUI and hit-and-run charges. Amanda has been told multiple times that she can't drive but she has continued to do so anyway. The Burbank Police Department should be commended for impounding the vehicle she was driving because she truly is a danger to herself and others."
With the string of incidents, Bynes has attracted the attention of another child star-turned-wild child -- Lindsay Lohan, who tweeted Sunday: "Why did I get put in jail and a nickelodeon star has had NO punishment(s) so far? +," later saying, "These are the moments that I appreciate my life experiences, living without regrets and Disney for supporting me as an actress-night all*"