Amanda Bynes Caught Driving AGAIN On A Suspended License: With Scarf Covering Her Face!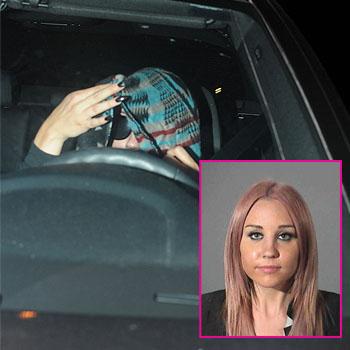 After being slapped with two hit and run charges and having her driving license suspended, Amanda Bynes was amazingly caught behind the wheel of a car yet again Thursday night RadarOnline.com is reporting.
Wearing sunglasses – and with her face covered in a scarf – the troubled former child star was spotted exiting a garage in Los Angeles on Thursday night.
Bynes, 26, was obviously trying not to be pictured, as she had a scarf wrapped around her head, and it is understandable given her recent legal troubles.
Article continues below advertisement
As RadarOnline.com previously reported, the What I Like About You actress has rapidly been spiraling out of control of late.
Earlier this month she was charged with two counts of misdemeanor hit and run following two separate car accidents that allegedly happened in April and August.
Not only was she charged with a DUI, the actress also had her driver's license suspended. But the former Nickelodeon star continues to drive and was even snapped on Tuesday smoking what appeared to be drugs from a pipe while she was behind the wheel.
MORE ON:
hollywood happenings
On Wednesday a Los Angeles judge warned her legal team that if their client doesn't appear at a September 21 court hearing a warrant will be issued for her arrest .
But the threat seems to have fallen on deaf ears.
Meanwhile, family and friends are worried about Bynes who apparently refuses to seek help for her problems.
A source told RadarOnline.com: "She has been told by her agent and her dad Rick that she has substance abuse issues and needs to get help.