Wikileaks Founder Julian Assange Granted Asylum In Ecuador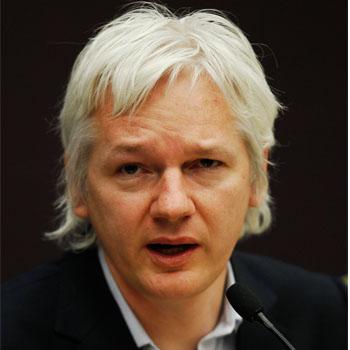 By Debbie Emery - RadarOnline.com Reporter
Two months after he took refuge in the Ecuadorian embassy in London, the South American country has granted Wikileaks founder Julian Assange.
Assange took refuge at the embassy on June 19 to avoid extradition from the UK to Sweden, where he faces questioning over assault and rape claims, which he denies, and Ecuador has since offered protection citing fears that his human rights would be violated.
Article continues below advertisement
"The government of Ecuador, faithful to its tradition of protecting those who seek refuge in its territory or in its diplomatic missions, has decided to grant diplomatic asylum to Julian Assange," announced Foreign Minister Ricardo Patiño, in a news conference in the Ecuadorean capital of Quito on Thursday, reported the New York Times.
"There are indications to presume that there could be political persecution," and that Assange would not get a fair trial in the United States and "could face the death penalty there," he added. He also accused the UK of making an "open threat" to enter its embassy to arrest the political activist and of conducting an "explicit type of blackmail."
Assange, 41, described the asylum as a "significant victory" and warned the British foreign office that "Things will get more stressful now."
The Wikileaks creator is now protected from British arrest but only on Ecuadorean territory, leaving him vulnerable if he tries to head to an airport or train to leave the UK for Ecuador. Patiño said he hoped Britain would permit Assange to leave the embassy — a request Britain has rejected, saying it has a binding, legal obligation to extradite him to Sweden and if he steps foot outside the embassy he will be arrested.
Article continues below advertisement
"Harboring of alleged criminals or frustrating the due legal process is not a permitted function of diplomats under the Vienna convention," said Britain's Foreign Secretary, William Hague.
The native of Queensland, Australia hit the headlines in 2010 when his controversial website () released more than 250,000 classified U.S. Documents online, many of which contained sensitive information about other world leaders, raising the ire of government officials worldwide.
When founded in 2006, Wikileaks claimed its goal was "to bring important news and information to the public" by publishing classified documents of interest, particularly about the American war efforts in Afghanistan and Iraq.
Inside The WikiLeaks Scandal: Who Is Julian Assange?
"It was not Britain or my home country, Australia, that stood up to protect me from persecution, but a courageous, independent Latin American nation," said Assange on Thursday after the announcement of his move to safety, reported BBC.co.uk.