Exclusive
Tom Cruise & Katie Holmes Planning On Taking Daughter Suri To First Day Of School Together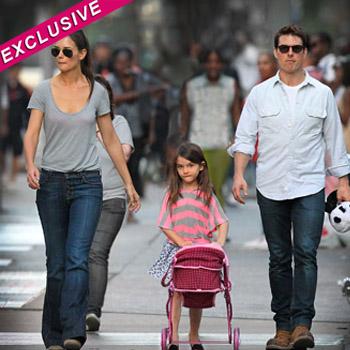 By Jen Heger - Radar Assistant Managing Editor
Tom Cruise and Katie Holmes are planning on taking their daughter Suri to school together for her first day in a couple of weeks, RadarOnline.com is exclusively reporting.
"Tom has been filming his latest movie in London but has made plans to be in New York for Suri's first day of school, which will be after Labor Day," a source close to the former couple tells Radar. "Tom and Katie have been speaking on the telephone regarding Suri and Katie has been very supportive of Tom wanting to be there when Suri goes to her new school for the first time.
Article continues below advertisement
"It's a big moment in Suri's life and Katie wants Tom to be a part of that. Of course, there will be security concerns and Tom doesn't want to disrupt other parents and students at the school with his presence, which means he very well could slip in and out via a back entrance. Katie doesn't want Suri to suffer because of their divorce and both parents are truly putting the needs of their little girl ahead of their own feelings."
As we previously reported, Holmes has no regrets about filing for divorce and has been "blissfully happy" since making the life changing decision. "She's been enjoying the company of her family a lot more, something she couldn't really do when she was married to Tom. He controlled who she saw and he often wasn't so approving of her family," an insider previously told Radar.
"Katie's desire for Suri to enroll in school was one of the main reasons why she decided to split from Tom. Tom's two children with Nicole Kidman were home schooled by Scientology tutors and he wanted the same for Suri. However, Katie had completely different plans and has already enrolled Suri in an elite private school. Tom doesn't like it, but he has reluctantly accepted this is the way it's going to be and will absolutely be a big part of Suri's life at school. Both Tom and Katie will take part in parent/teacher conferences and other school activities that Suri will become involved in," the insider says.