Robert Pattinson Giving GMA First Interview Since Split With Kristen Stewart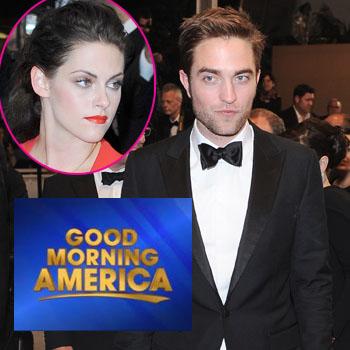 In what surely will be must-see TV, Robert Pattinson is scheduled to give his first interview Wednesday, August 15 on ABC's Good Morning America since splitting with his cheating girlfriend Kristen Stewart. GMA made the big announcement Monday during its program, striking yet another blow to the struggling TODAY show.
As RadarOnline.com previously reported, friends of the Twilight hunk  tried to get his mind off Stewart cheating on him by taking him to a cowboy dance and music club over the weekend.
Article continues below advertisement
He was spotted Friday night at The Deer Lodge in Ojai, CA, 90 minutes from the home he used to share with Kristen.
"I've been told by several people that Robert Pattinson was here enjoying the music with his friends. He seemed in good spirits," a Deer Lodge employee, who asked that his name not be used, tells RadarOnline.com. "I wasn't on that night so I didn't personally see him, but several others did."
Article continues below advertisement