Controversial "I'd Hit That" Rihanna T-Shirt On Sale At Music Festival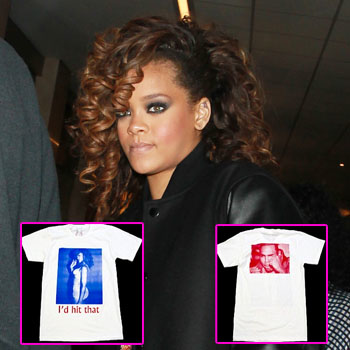 Music festivals used to be about peace and love but a T-shirt that was sold at a UK event is accused of making light of domestic violence, RadarOnline.com is reporting.
The offending item was on sale at the Beacons Festival in Skipton North Yorkshire earlier this month. It features a photo of Rihanna on the front and on the back is a picture of her ex-boyfriend Chris Brown with his fists raised, as though he is about to throw a punch.
Article continues below advertisement
Underneath the sexy photo of Rihanna are the words: "I'd hit that."
The phrase is traditionally a slang term meaning "to have sex with." However, the phrase seems to be a deliberate pun and a reference to Brown's 2009 assault on the We Found Love singer.
According to one writer, festival goers were not amused. Jim DeBarker said on louderthanwar.com that "a small crowd" was "imploring the vendors to take the T-shirt off sale due to the offense it was causing."
But, he says they were told they were "obliged to keep it on sale" because the shirt had been made by "the suppliers who made the official merchandise."
However the organizers claim they removed the T-shirts, the MailOnline reports.
Either way a spokeswoman from a UK domestic violence charity was outraged. Teresa Parker from Woman's Aid said: "This T-shirt trivializes violence in relationships.
"We would ask the people who are producing this T-shirt to think seriously about the message they are sending out."