Oprah Winfrey Reveals Vicious Backlash After Appearing In Ellen 'Coming Out' Episode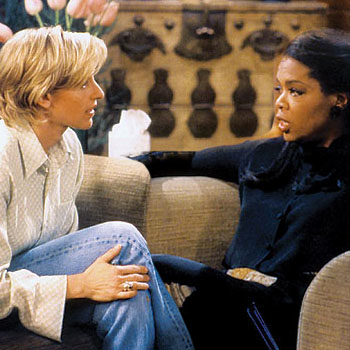 Oprah Winfrey has revealed that she faced vicious backlash from fans after her infamous appearance in the 90s sitcom Ellen, RadarOnline.com reports.
The talk show queen told The Hollywood Reporter that after starring in the puppy episode where the show's main protagonist, Ellen Morgan (played by Ellen DeGeneres) revealed her sexual orientation – she was sent hateful letters and phone calls.
Article continues below advertisement
The 58-year-old recalled one message: "It always turns to race. I got all of the, 'N-----, go back to Africa. Who do you think you are?"
Winfrey also admitted that the reaction she got took her by surprise.
"I did it because she asked me to do it and I wanted to support her," she said of appearing as a therapist in the episode, which aired April 30 1997.
"It didn't occur to me that there would be a backlash."
DeGeneres, 54 decided to come out on national TV and the announcement was coordinated with a Time magazine cover.
At the time, she became the target for religious groups, who staged protests against her and the show. Executive producers also received a number of death threats, as security for all involved was stepped up.
"She was pretty emotional that day - kind of tense and not fully herself," Winfrey said of DeGeneres, describing the mood on set after filming.
Article continues below advertisement
"It's one thing to be ready to step out, it's another thing to be ready for the thunderous explosion that occurred after she did."
However, despite the initial backlash for both parties, Oprah is happy that Ellen is able to live comfortably in her skin and has become a chat show success.
"Being able to be free - literally - and to express herself in a way that she can be 100 percent truthful with the audience has allowed them to fall in love with her," Winfrey said.