Braless Miley Cyrus Sexes It Up In A Backless T Shirt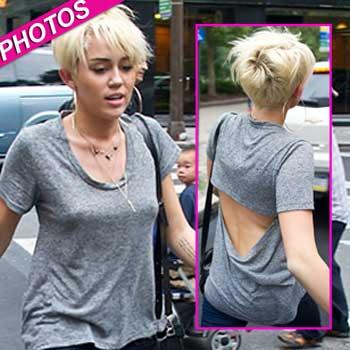 Miley Cyrus continued to sex up her image, stepping out sans bra in a gray backless T shirt Saturday, and RadarOnline.com has the photos.
The 19-year-old rocked her sexy T along with some tight jeans and black Doc Martin boots during a shopping trip in Philadelphia where she is currently staying while her fiance, Liam Hemsworth, works on his new movie, Paranoia.
Miley has been garnering plenty of press recently for her appearance, after wearing a variety of sexy outfits and chopping off her long blonde locks into a peroxide pixie cut.
Article continues below advertisement
"The apparent recent marks on her wrist, the drastic haircut, and an undeniably fledgling career suggest to me that Miley is overwhelmed with anxiety, feeling lost and uncertain about her future. Her loved ones should keep a close eye on her in case her impulsive behavior continues and gets worse, potentially putting her at risk of self-harm," he warned.
However, Miley has been taking any criticism in her stride, tweeting: 'My dad Billy Ray Cyrus used to tell me, 'Opinions are like a**holes - everybody has one.'"