Sexy Miley! Cyrus Shows Off Her Black Bra In A Sheer White Shirt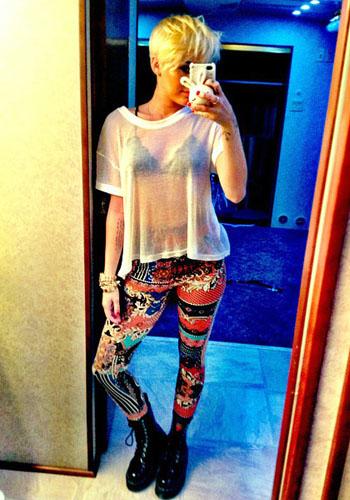 By Alexis Tereszcuk - Radar Entertainment Editor
Miley Cyrus is darn proud of her rockin' new body, and she isn't afraid to show it off in a black bra through a completely sheer white t-shirt.
The 19-year-old wild child posted a picture on her Twitter account where she is wearing a black lacy bra paired with a white t-shirt, totally 80s patterned leggings, black combat boots and of course her new bleached blonde pixie hair.
Article continues below advertisement
"It was just one of those CUHHH-RAZY pant days," the former Disney star wrote about the picture.
Miley has been showing off more of her wild ways since chopping her locks off and telling off her critics on Twitter, writing ""My dad Billy Ray Cyrus used to tell me, 'opinions are are like a**holes --everybody has one.' LOVE my hair. Feel so happy, pretty, and free."
What do you think about Miley's provocative new look? Tell us in comments!