Jon Voight Slams Obama, Claims He Controls Media… Like Hugo Chavez!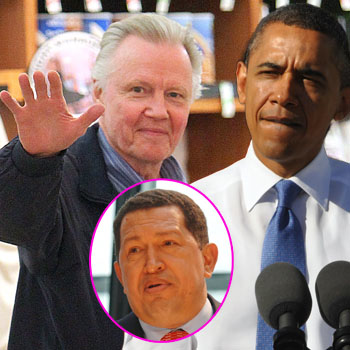 Article continues below advertisement
"It's not less than what has happened in Venezuela with Hugo Chavez, really, because you can't get the information through. I'm giving you this because I want to give the press my opinion. You can put it in any way you want to. But, it's become pure propaganda and we should be appalled."
Braving Hurricane Isaac in Tampa, Voight claimed that major networks are ignoring the week's events.
"I mean look at the main media, it is not going to cover the Republican convention?
"This is propaganda, pure and simply. They say, 'well, we'll give them an hour.' They'll edit an hour – well, what will they edit out? What is the story they will tell? Do you understand?"
Brad Pitt and Angelina have supported multiple liberal causes between them, but they are no strangers to their parents' right-leaning views.
Jane Pitt, Brad's mother, recently wrote a letter to a newspaper editor where she condemned same sex marriage and Barack Obama.