10-Year-Old Sinatra Fan, Goth Opera Sensation Get Second Chance On America's Got Talent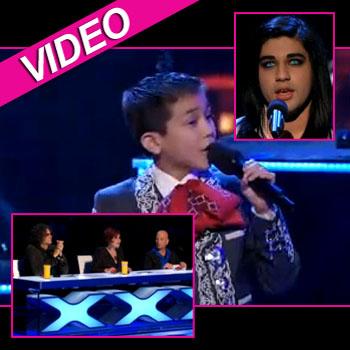 On Tuesday's live edition of America's Got Talent from Newark, New Jersey, Howard Stern, Sharon Osbourne and Howie Mandel gave 12 previously-eliminated contestants another shot at a $1 million payday, and more, on the show's wild card episode.
Early season standout Andrew De Leon was among the stars who made the most of his second chance (awarded by Howie), delivering a high-pitched, Spanish opera rendition of Toni Braxton's Unbreak My Heart to the delight of the audience and judges.
Article continues below advertisement
"In this night of redemption, you redeemed yourself," Howie told the 19-year-old, while Sharon told him, "That performance was sensational -- sensational! You, Andrew my darling, are a star!"
Another singer given a second shot by Howie, 10-year-old mariachi singer Sebastien E. De La Cruz, would have made Ol' Blue Eyes proud with his charming rendition of New York, New York, earning a standing ovation from the crowd.
Howie told the young man that, "More than a singer, you are 10-years-old, you are beyond your years and you showed us how you can spread your wings ever further than mariachi music. I think you are a star … and I think America's got to vote for you."
Sharon told the precocious young singer, "You took a big risk, your song choice, but everything you did tonight, you and your band, were superb."