Howard Stern Slams Howie Mandel For Supporting Oddball Act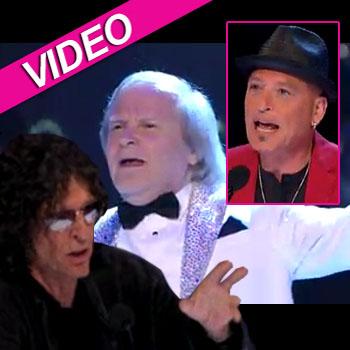 Howard Stern, annoyed by Howie Mandel's questionable call on Tuesday's America's Got Talent, turned his razor-sharp wit on his fellow judge, and RadarOnline.com has the hilarious clip.
The King of All Media was upset over Howie's support of an oddity named Big Barry, a lounge singer whose rendition of Feeling Good was fine for a one-off laugh, but little else.
An enthralled Howie, -- describing Barry as a cross between Bob Dylan and the Easter Bunny -- told Barry that while he's not a particularly good singer, he's "an incredible novelty act" who audiences would pay to watch.
Article continues below advertisement
That was enough for Howard, who said his colleague's whimsical decisions left some of the show's standouts without a spot.
"The Howie filibuster is getting annoying to me, actually," Howard said. "I gotta tell you -- you know, Big Barry, this isn't about you. This is about Howie … and this is about the apology you owe to Flo Jo's daughter, to Andrew De Leon, to all the people that could have gotten through instead of Big Barry, you ruined their chance!
"Howie owes all those performers that could have had a shot on this stage: Barry, no offense to you, but you're not fun, you're not funny and you're not talented," Stern said. "It was a big waste of time."
"Girls, girls, behave!" said Sharon Osbourne, while host Nick Cannon said, "You two go to your corners!"
Watch the video on RadarOnline.com
America's Got Talent airs on NBC Tuesdays at 8/7c and Wednesdays at 9/8c.