America's Got Talent: Howard Stern Hams It Up With Smooch The Pig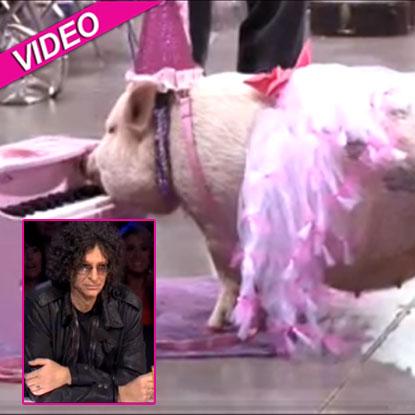 Howard Stern, Sharon Osbourne and Howie Mandel wrapped up the final round of auditions on Monday's edition of NBC's America's Got Talent, which could have been perfectly summed up as "Beauty and the Beast."
First, the beast: Smooch Piggy, a tutu-wearing swine whose talents included climbing up steps, honking a horn and knocking down miniature bowling pins.
"Bacon for everybody!" the King of All Media said.
Article continues below advertisement
While Sharon Osbourne voted to advance the pig to the next round, Howard and Howie passed on promoting porky.
Now, for the beauty: Mary Joyner, the daughter of late Olympic star Florence "Flo-Jo" Griffith-Joyner, delivered an enchanting rendition of the Sara Bareilles song Gravity.
"I think we just fell in love with you," Howie told her, while Howard said, "You had me in 30 seconds."