Sharon Osbourne Mum About Mysterious Tweet On America's Got Talent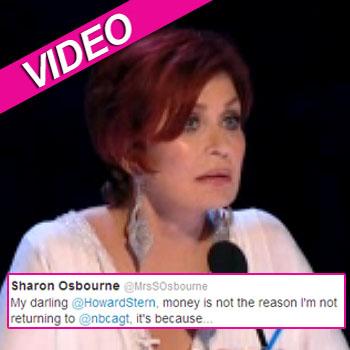 During Tuesday night's live edition of America's Got Talent, Sharon Osbourne made no mention of a mysterious Tweet she sent earlier in the day, in which she dropped a bombshell that she was leaving the hit NBC show.
Instead, Osbourne's Tweets during the show focused on the performances of the evening as she and fellow judges Howard Stern and Howie Mandel appraised the final dozen acts, and with a million dollars at stake, the remaining 12 contestants brought their A-game to the stage.
Article continues below advertisement
Among the standouts: Sebastien E. De La Cruz, a Mariachi singer whose stage presence and ability belie the fact he's just 10-years-old.
"That was incredible," Howie told him after he sang, while Sharon said, "I honestly don't know much about Mariachi music … but all I know is I love what you all do. I really, really love it. You have such passion when you sing … you are just a very special, special person."
Howard called the boy "wise beyond his years," adding while he's not a particular fan of Mariachi music, he's certainly a fan of Sebastien.
"I love it and I love you," the King of All Media said.
Impressive in a whole different way was David "The Bullet" Smith, the show's answer to the late Evel Knievel. Smith showed his talent by being shot 40 yards into a net in a stunt he called "The Human Field Goal."
Article continues below advertisement
And a contestant named Horse -- who calls himself a "King of the Nut Jobs," for good reason -- donned a superhero's outfit for his schtick of getting hit in his private area in every possible way.
Stern said, "I know you are a mad man … very few things make me laugh that hard … this is one of those acts where you either love it or you hate it … kinda like my radio show. Good for you … job well done."
Sharon -- who asked Horse "Are your dangly bits throbbing? -- reassured him "You are entertaining … get ice."
Watch the video on RadarOnline.com
As we previously reported, Sharon hinted at her departure in a tweet addressed to Stern Tuesday, writing: "My darling @HowardStern, money is not the reason I'm not returning to @nbcagt, it's because…"
Some speculate her son Jack's battle with MS could be the driving force for Sharon to pull back the reigns on her busy career, as she she also appears on the CBS daytime show, The Talk.