Exclusive
Heidi Klum & Seal's Divorce Battle Heating Up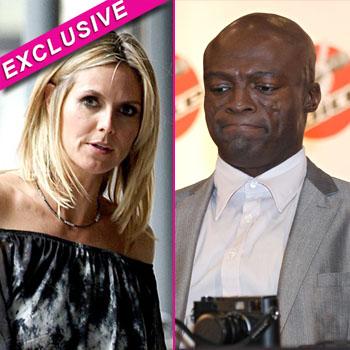 When they first split in January it was hoped that Heidi Klum and Seal's unexpected divorce would be amicable for the sake of their children, but sadly now the gloves are coming off and things are heating up, the new issue of Star magazine is exclusively reporting.
While the 49-year-old singer was reluctant to take his wedding ring off at first, telling talk show titan Ellen DeGeneres: "When you say, 'Till death do us part,' those vows hold value," it now appears to be war between the parents of four.
Article continues below advertisement
Seal has since countered the super model's request for primary physical custody by demanding that they both get equal time with the kids, and has also contested Heidi's claim that there weren't any joint assets that needed to be divvied up, Star reveals. Seal is worth $15 million, Heidi $70 million -- so a lot is at stake.
Both those legal battles are still being fought and now a third disagreement is thrown into the mix after Seal used intimate shots of the children -- Leni, 8; Henry, 6; Johan, 5; and Lou, 2 – in an ad campaign for a Leica digital camera without Klum's permission.
"Heidi felt that the children had gone through enough since their parents split, and she didn't want their private moments out there for the world to see," said an insider. "But Seal maintained he had every right to use his personal photos — and, moreover, that it was a done deal and out of his hands."
The German model hired a lawyer to demand that Leica retract the video and within days it was taken down.
Article continues below advertisement
"Heidi isn't trying to cause trouble," revealed the friend, explaining that Heidi has always tried hard to keep her children out of the spotlight. "She's just trying to protect her brood. Since she filed for divorce from Seal, he's been out with more than one young woman, whereas Heidi hasn't dated at all."
Despite a number of reports that the reality host has been dating Germany's Next Top Model executive Thomas Hayo, she has denied they are anything but coworkers.