New York Police Shot Several Bystanders At Empire State Building By Mistake!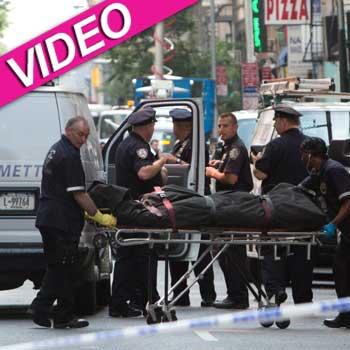 New York police are responsible for injuries inflicted on nine innocent bystanders in wake of Friday's chaotic shooting at the Empire State Building. New York Police Commissioner Ray Kelly made that startling revelation during a news conference Saturday.
Police say three of the wounded were hit by flying bullets fired by cops, while the other six were hit by fragments. Three of those injured-- two women and a man -- remain hospitalized at Bellevue Hospital Medical Center Saturday morning in stable condition with nonlife threatening injuries. A hospital representative said the patients are unlikely to be released in the next 24 hours.
Article continues below advertisement
Police said Jeffrey Johnson, 58, a T-shirt designer at Hazan Import (located inside the Empire State Building), used a .45-caliber handgun to kill a former colleague, identified as Steven Ercolino, 41, Friday morning.
After the shooting, Johnson ran down Fifth Avenue; he was shot dead by two officers after he turned his gun on them, although the weapon appeared to have jammed.
The officers fired 16 shots at Johnson, hitting him at least seven times. A video released by the police Friday night showed that the entire incident with the two officers lasted less than 10 seconds.
Watch the video on RadarOnline.com
The nine people wounded included eight New York City residents and one resident of North Carolina, police said. Three of the wounded were women.
Johnson had been laid off about a year ago from Hazan Import during a downsizing from his six-year job as a designer of women's accessories, Kelly said.
Johnson blamed Ercolino -- a vice president at the company -- for causing him to lose his job by not doing enough to sell his line of accessories, police said.
"They had issues," John Koch, the building manager at 10 West 33rd St told ABC News. "They didn't like each other."
Police said Ercolino was shot five times.