Disgruntled Laid Off Worker Behind Empire State Building Shooting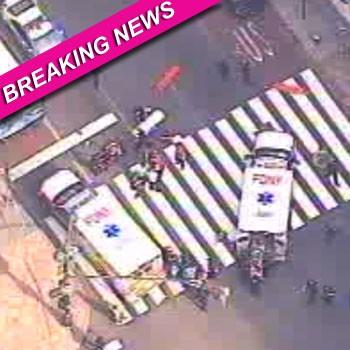 A disgruntled former employee of a company located inside the Empire State Building was behind Friday morning's mass shooting that left two people, including the gunman, dead and several others wounded.
The gunman -- identified as 53-year-old Jeffrey Johnson -- used a .45 caliber handgun to shoot a former co-worker in the head inside the iconic New York landmark. The victim, a 41-year-old man, died at the scene. At this time, his identity is not being released.
Article continues below advertisement
Authorities said Johnson tried to flee the scene after the shooting, but a construction worker alerted two police officers, who chased him down 33rd Street.
When Johnson pulled a gun on the approaching police officers, they shot him dead. It's not clear if Johnson actually shot any rounds as police opened fire on him.
Nine bystanders -- seven men and two women-- were injured in the crossfire as the result of stray bullets.
"Some may have been accidentally shot by police officers," Police Commissioner Ray Kelly said at a news conference. All of the wounded are expected to make a full recovery.
Johnson worked with the victim at women's accessories designer Hazan Imports. He was laid off last year as a result of budget cuts.