Elizabeth Smart Tells Family Of Missing Tennessee Woman 'Never To Give Up' Hope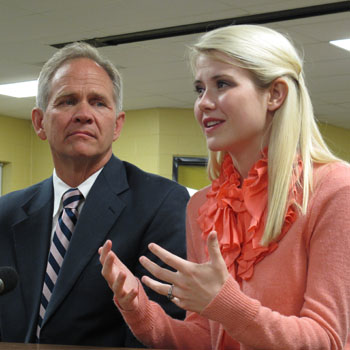 Article continues below advertisement
Holly was last seen by her brother being led into the woods by a man in hunting gear near the family's country home in Parsons, about 100 miles northeast of Memphis, in April 2011. Since then, authorities and volunteers have been using search dogs to look for Bobo, hoping that she is still alive.
The inspirational meeting took place at Scotts Hill High School where Holly was once a student, where newlywed Elizabeth told the audience her own harrowing experience at the hands of a kidnapper who held her just miles away from her family's home in Utah.
"It is not impossible for Holly to come home," reassured Elizabeth. "Never give up. I was just three miles from my family and I was found. Holly could have the very same ending."
As RadarOnline.com previously reported, Smart was 14 when she was snatched at knife-point from her bedroom in 2002 by Brian David Mitchell, who sexually assaulted her almost daily during her nine month captivity.
Since her rescue, she has become increasingly active in helping other crime victims in similar horrific situations through her work at the Elizabeth Smart Foundation, which aims to protect children from abuse through prevention and education.
Article continues below advertisement
While describing how her abductor carried her into the mountains and performed a marriage ceremony before raping her, the pretty blond told her captivated audience. "I remember feeling like, 'Who could ever love me again?'" Smart said. "Could my parents love me again? Would they keep looking for me if they knew what had happened to me? Would people accept me as a normal person again?"
Instead of destroying her will, she said the nightmare scenario gave her more strength to fight. "I made the decision right then and there that no matter what happened, that I would survive," Smart revealed.
Holly's distraught mother, Karen Bobo, told the school hall how she never stops looking for her daughter. "Sometimes I drive by a house and I think, 'Can Holly be in there?'" she said, begging residents to stay vigilant. "We're never giving up the hope that she's out there."
"We all think somebody is holding her somewhere," added her father, Dana Bobo. "We don't have a clue where."
A $250,000 reward has been offered for information leading to Holly's safe return.
Article continues below advertisement