Elizabeth Smart Tells Sell-Out Crowd About Her Kidnapping Trauma, 'Not All Cases End Sad'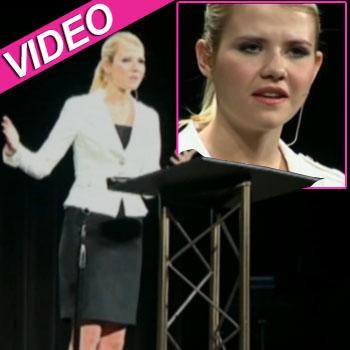 Article continues below advertisement
"Not all cases end sad. I'm here. I'm a happy ending, and I know there are many children out there waiting for a happy ending to happen to them."
Having survived her own abduction, Smart has dedicated her life to helping others by working as a tireless activist for missing and abused children, along with the creation of the Elizabeth Smart Foundation.
"Right now, we're working on the RAD Program, which stands for Resisting Aggression Defensively. It covers everything from kidnapping to bullying," explained Elizabeth, who is determined to help victims learn how to thrive, rather than just simply moving on from trauma.
Article continues below advertisement
"Everyone has hard times, ups and downs. All handle them differently. We all can heal. As many different ways as we get hurt can be as many different ways as we can heal," she said, adding that she won't give her kidnapper a minute more of her life.
Elizabeth was found alive nine months after her abduction on March 12, 2003, in Sandy, Utah, about 18 miles from her home. She went on to testify against Mitchell and he has since been sentenced to life in prison.