Happy Gilmours: All The Details On Elizabeth Smart's Wedding!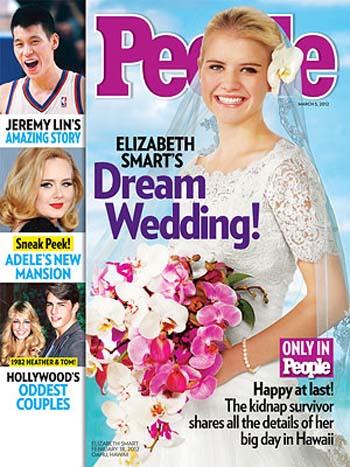 Elizabeth Smart married Matthew Gilmour on Oahu, Hawaii Saturday, and RadarOnline.com has all the details for you.
"Matthew, I love you so much," Smart said, according to People magazine. "I couldn't be happier. I am so grateful that everyone is here to be with and support us on this beautiful day. I love you so much."
The couple of one year decided to get engaged in January and quickly planned a Hawaiian wedding.
Article continues below advertisement
Newlywed Elizabeth Smart Shows Off Her Wedding Ring, And Her New Husband!
"Oahu is a very special place for me, very different than what I was used to," Smart told the magazine of why she chose the location to tie the knot with Gilmour, a 22-year-old Scotsman she met while they were in France on Mormon missions. "I guess you could say it was kind of a refuge."
While the newlyweds initially intended to wed in Utah, they changed the venue to the islands to avoid a media circus. She said they will throw a bash in honor of their union this spring.
Elizabeth Smart Marries In Hawaii
"We are very traditional," Smart said.
Matt's mother Kay Gilmour told the magazine, "They are clearly besotted with each other, and it's a wonderful thing to see."
Elizabeth Smart Announces Her Engagement, Planning Summer Wedding
Smart's father Ed delivered a speech that welled many an eye in the crowd.
"Last spring, when you told me you had met 'The One,' I said to you, 'Slow down, take your time,'" he said. "You were right — you have found the man who will make you really happy."
Article continues below advertisement
Elizabeth Smart Cries Describing Her Abduction And Rape
For her big day, Smart wore a white, dotted tulle Alita Graham gown retrofitted with lace sleeves and a sweetheart neckline, in line with Mormon tradition. Her groom wore the kilt that once belonged to his late father Stewart, who passed away four years ago after a battle with cancer.
Smart, now 24, made national headlines when transient preacher Brian David Mitchell kidnapped her when she was 14 on June 5, 2002 from her Salt Lake City home at knife point in the middle of the night, eventually taking her to San Diego.