Elizabeth Smart Cries Describing Her Abduction And Rape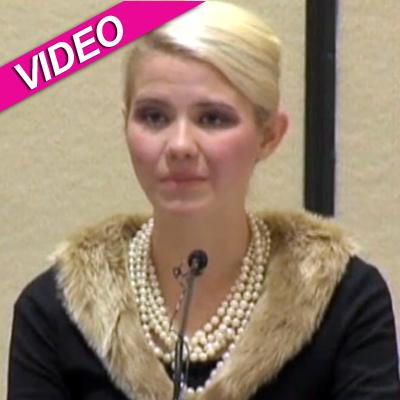 By Alexis Tereszcuk - Radar Senior Reporter
Elizabeth Smart cried this week while speaking publicly about her harrowing ordeal at the hands of a kidnapper, and RadarOnline.com has the moving video.
The 24-year-old spoke at the Salt Lake City Rotary Club on Tuesday about the night she was kidnapped in 2002 at knifepoint from her home by Brian David Mitchell.  She is working with the Elizabeth Smart Foundation and the program RadKIDS that empowers children to protect themselves from danger. 
Article continues below advertisement
"He went straight from marrying me to raping me. And after that moment I couldn't feel more worthless and more degraded," she said as she wiped tears away from her eyes. "It was the worse feeling I could have ever felt."
SHOCKING PHOTOS: Elizabeth Smart Evidence In Kidnapping Case
"I don't want another child to feel like I felt. I don't want another child to feel worthless," she said, giving her reason for telling her story.
Watch the video on RadarOnline.com
Describing the terrifying night when she was taken from her room, she said "I kept begging him to let me go – and he wouldn't listen to me.  All I could do was scream 'No.' He said, if you ever scream like that again, I will kill you."
Elizabeth said she was afraid he was going to do that, so asked him for one thing.  "I turned to him and said to him if you are going to kill me please do it here so my family can find my remains. And he said, 'That's not what I am going to do yet.'"
Article continues below advertisement
She was just 14 at the time she was kidnapped and described how she dealt with the violence.  "I think my body just shut down because I couldn't handle what I was feeling and everything that was happening."
Elizabeth was found alive nine months later on March 12, 2003, in Sandy, Utah, about 18 miles from her home.
Elizabeth testified against Brian David Mitchell and in May he was sentenced to life in prison.