Missing Tennessee Girls Rescued, Suspected Abductor Kills Himself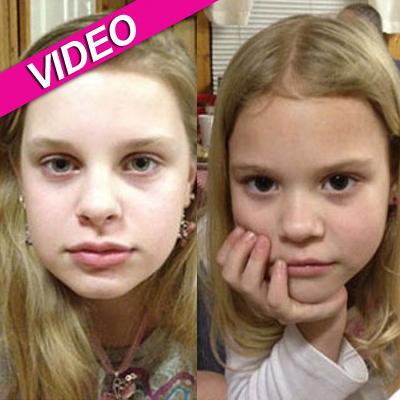 The two missing Tennessee girls who were allegedly snatched by fugitive Adam Mayes were rescued on Thursday night, and after landing himself on the FBI's Most Wanted List for their kidnapping, their abductor is now is dead.
"The girls were found alive and appear to be unharmed," said Mississippi FBI special agent Daniel McMullen, reported ABCNews.com. "Officers also apprehended top-10 fugitive Adam Mayes. Preliminary reports indicate Mayes shot himself in the head and was later pronounced dead in an area hospital."
Article continues below advertisement
Mayes is suspected of kidnapping Alexandria, 12, and Kyliyah Bain, 8, after killing their mother and older sister because he believed they were his own children.
Watch the video on RadarOnline.com
According to his former mother-in-law, Josie Tate, Mayes and his ex-wife Teresa used to fought constantly over whether he was the father of JoAnn Bain's youngest daughters.
Rather than fighting to prove his parentage legally, his obsession with the girls led the 35-year-old to murder JoAnn and her eldest daughter, Adrienne, in their Tennessee home on April 27 and take Alexandria and Kyliyah back to his home state.
FBI officials believe the drastic and deadly move was motivated by Bain's plan to move her family to Arizona at the end of the school year.
The pretty blonde sisters were discovered in a wooded area behind a church in Alpine, Mississippi around 6:50 pm Thursday after agents were alerted to their location by a tip. According to FBI special agent Aaron Ford, Mayes shot himself in the head with a semi-automatic pistol when ordered to surrender. He was later pronounced dead at a local hospital.
Article continues below advertisement
The girls appeared uninjured but suffering from exposure, dehydration and poison ivy, and taken for treatment.
On Tuesday, Teresa Mayes and Adam Mayes' mother, Mary, were arrested and charged with 'especially aggravated kidnapping.' According to the warrants, Teresa told police she witnessed Adam kill JoAnn Bain in the garage of the Bain's home, and then kill Adrienne Bain in the home itself.
Adam and Teresa then took the dead bodies and two young girls to the Mayes' home in Mississippi, where Adam allegedly buried the two bodies, the documents state.