Casper Smart's ACDC Moment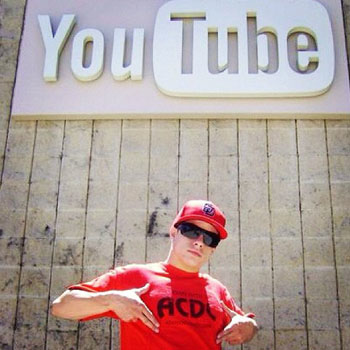 By Amber Goodhand - RadarOnline.com News Editor
Jennifer Lopez's boyfriend Casper Smart certainly didn't do himself any favors to squash the gay rumors surrounding him by posting a photo on his Twitter account Wednesday afternoon sporting an ACDC shirt — a common slang term meaning "bisexual."
Wearing a bright red ACDC t-shirt and sunglasses, Casper proudly posed in front of the YouTube building and captioned the photo, "SWAGG."
Article continues below advertisement
Whether he knew it or not, ACDC Alternating Current/Direct Current means fluctuating or alternating, therefore it's been akin to bisexuality, referencing people who "swing both ways."
Of course, Casper could just be a fan of the popular Australian rock band, AC/DC!
As RadarOnline.com previously reported, one of Casper's fellow backup dancers and Step Up 3 co-star, Joshua Lee Ayers, posted suggestive photos of Casper on his Twitter account and made allegations that Casper is gay.