Exclusive
Jennifer Lopez's Boyfriend Casper Smart Caught At Gay Peepshow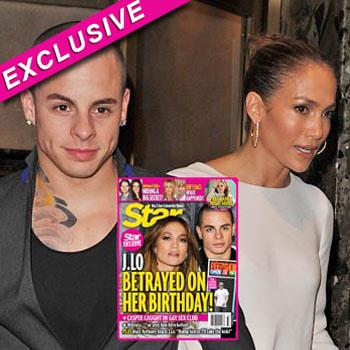 Photos of Casper Smart visiting an adult XXX peepshow the day before Jennifer Lopez's 43rd birthday may have come as a shocking, unexpected gift to the singer, but a regular at the 24-hour joint exclusively told Star magazine that he's seen Casper there in the past and it's a popular spot for gay men.
While many speculated Casper, 25, was just there to buy a sexy birthday gift for J.Lo, the backup dancer wasn't photographed leaving the establishment with any presents or packages, and was never seen entering the adjoining sex shop -- only the peepshow.
Article continues below advertisement
"This is a gay cruising spot," a man familiar with the spot told an undercover Star reporter who visited the New York City peepshow.
"You go into the booths, then you get all kind of tapping on the wall and propositions. It's like zombies."
Another peepshow regular told Star when shown a photo of Casper, "Yeah, I've seen him. He was in here about three weeks ago."
This isn't the first time gay allegations have been thrown Casper's way: As RadarOnline.com first reported, fellow backup dancer and Casper's Step Up 3D co-star Joshua Lee Ayers posted old photos of Casper on his Twitter account in which he was striking provocative poses with other shirtless men and Joshua urged viewers to check out his "low key homo ways."
However, J.Lo and Casper's rep, Mark Young, adamantly denies the allegations and told RadarOnline.com, "Casper is not gay. These comments are born from envy and jealousy."
But according to Star, Jennifer's estranged hubby Marc Anthony wasn't happy when he saw the photos of Casper at the gay XXX peepshow either.
"Marc has never liked Casper and doesn't want him around his kids," an insider said.
"When he saw the pics of Casper coming out of that porn theater, he lost it. He told Jennifer in no uncertain terms: 'Dump Casper or I'll take the kids.' He doesn't want his children exposed to someone like that anymore."
Article continues below advertisement
To read more about Star's undercover investigation into the peepshow and Casper's activity while there, pick up the new issue on newsstands Thursday.
***
UPDATE: Attorneys for Jennifer Lopez and Casper Smart have denied the Star magazine report and In Touch story (who ran a cover item claiming Casper attended the same venue and went upstairs to an appointment-only exotic massage parlor.)
"These statements are false, malicious and defamatory. Ms. Lopez and Mr. Smart will pursue all remedies available to them under the law," they said in a statement.