Bobbi Kristina Brown Talking Marriage With 'Adopted Brother'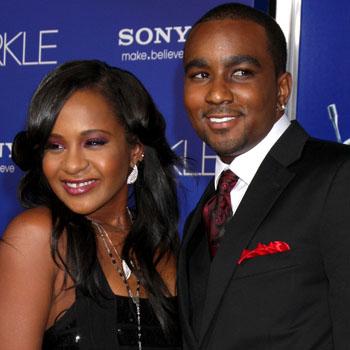 Bobbi Kristina has not been shy about her mounting affection for her 'secret brother-turned-boyfriend' Nick Gordon since her mother Whitney Houston died in February, and now the new issue of the National Enquirer is exclusively revealing that the couple are talking marriage.
The late singer's rebellious daughter has already defied her family's wishes by continuing her romantic relationship with Whitney's 'adopted' son. The couple showed they were ready to make life commitments by getting inked together last week, and now an insider has revealed that the two are considering taking their relationship to the next level.
Article continues below advertisement
Sadly though, 19-year-old Bobbi's family fear that Nick, 22, is a gold digger with his eye on the I Will Always Love You singer's $20 million fortune. Strong-willed Whitney defied her mother's wishes by marrying bad boy Bobby Brown – with tragic results – and now her daughter is doing the same.
Gordon lived with Whitney and Bobbi Kristina since 2008 in their Atlanta home, and concerned relatives worry that he is taking advantage of the emotional strain the teenager has been in since her mom's untimely death at 48.
Bobbi is surprisingly getting the blessing of her troubled father, however, as the singer who recently did a stint in rehab for a drunk-driving arrest in March has granted his approval of his daughter's burgeoning romance.
Nick's family has also given the young couple the green light, with step-mother Cheri Lynn Thompson, (who is married to his dad Clyde Thompson), telling the Enquirer: "I'm sure we will be invited to the wedding."
For the full story, the new issue of the National Enquirer is on newsstands on Thursday.
RELATED STORIES: