Exclusive
Vicki Gunvalson's Boyfriend Brooks Ayers 'Did Not Run Out On His Child,' Says Attorney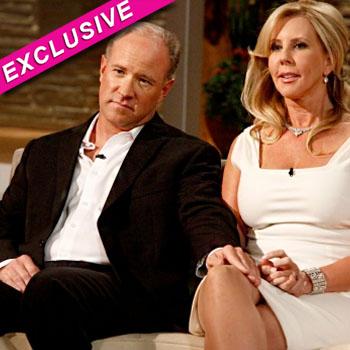 By Debbie Emery - Radar Reporter
Instead of fighting with The Real Housewives Of Orange County, Vicki Gunvalson's boyfriend Brooks Ayers is now taking on ABC demanding an apology for the 20/20 special they aired alleging he is a deadbeat dad, and RadarOnline.com has exclusive details on the legal stand-off.
"While we have not filed a lawsuit yet, we have written to ABC demanding a retraction and informed them that the threat of the lawsuit exists and we are currently in discussions with them," Ayers' attorney, Alexander Rufus-Isaacs of Rufus-Isaacs, Acland & Grantham told RadarOnline.com in an exclusive interview.
Article continues below advertisement
"The most damaging aspect was the program accusing him of running out on his child, which is absolutely false," he explained.
As previously reported, 45-year-old Ayers decided to take legal action against both the network and his ex-girlfriend, Nicolette Catanzarite, after they made "numerous defamatory statements" about him on the special that aired on June 29 claiming he has not supported their three-year-old son.
"He bailed on the hospital bill, the pediatrician bill, and left me with all of it," said the 41-year-old model and hair salon owner from Indianapolis.
However, Rufus-Isaacs told Radar that the single mother's grievances are part of an ongoing dispute during which she refused the businessman from Mississippi visitation rights to the boy.
"Brooks is very close with his three children from his marriage, and he is very keen to have a relationship with his son, but Nicolette won't allow him access for the time being," he explained.
Article continues below advertisement
"She has said she doesn't know how to get hold of him, which is not true. She traveled to California in January 2012 and met with Brooks and Vicki, since then he has had the same cell phone number and the same e-mail, so there is no credence to these claims that he disappeared on her."
Instead of going on primetime television to air their dirty laundry, Rufus-Isaacs believes that the former couple should deal with it between themselves.
"They have a dispute and it should have remained private. It was wrong of her to go public and smear his reputation," he told Radar.
It is not the first time that the Beverly Hills attorney has come in conflict with the ABC primetime show — he has filed two past claims against them, one of which involved an episode that included "one of the most appalling pieces of editing out of context I have ever seen.
Article continues below advertisement