Exclusive
Randy Jackson Responsible For Plotting To Overthrow Michael Jackson's Executors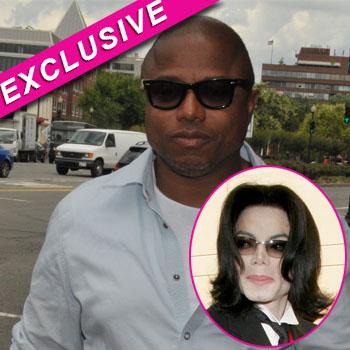 By Jen Heger - Radar Assistant Managing Editor
Randy Jackson is responsible for hatching a family plot to overthrow Michael Jackson's executors in an attempt to get his hands on part of the late King of Pop's estimated $1 billion fortune, RadarOnline.com has exclusively learned.
During an emotional interview on The Insider Tuesday night, Marlon, Tito, and Jackie Jackson would not identify the person they hold responsible for not allowing them to talk to their mother Katherine for more than nine days now, but Radar has learned that the trio holds their brother, Randy, responsible, as well as his business associate, Howard Mann. 
Article continues below advertisement
Michael Jackson's children's court-appointed attorney, Margaret Lodise, will be asking a judge to strip Katherine's guardianship of Paris, Prince, and Blanket since she has been out of town for more than a week, and because she believes the children aren't safe following a physical altercation with Janet, Jermaine, and Randy on Monday. The hearing could happen as early as Wednesday morning as there are regularly scheduled proceedings in Michael Jackson's probate case.
When asked who orchestrated this current Jackson family drama, Marlon said during The Insider interview: "I'm not going to go into that. There is somebody that made the decision that my mother cannot talk to me, and whoever that person is is going to have to answer to me. I'm going to see my mother, and I'm going to bring her home."
Family sources unequivocally tell us: "Marlon, Tito, and Jackie all hold Randy responsible for all of this. Randy is also getting advice from Howard Mann, who has been on the fringe for the last two years, trying to insert himself into the Jackson family. Randy introduced Howard to Katherine, and some of the siblings have been very concerned for a very long time about Mann. Howard is business partners with Katherine on several deals that Randy has supported and wanted her to do," the source tells us.
Article continues below advertisement
Howard Mann is the founder of the Naked Women's Wrestling League, and as RadarOnline.com previously reported Katherine and Mann released a book together, Never Can Say Goodbye, The Katherine Jackson Archives. Mann also operates the website, JacksonSecretVault.com. The executors of Michael's estate sent Mann a cease-and- desist letter in 2010 because the promoter was using the King of Pop's image on a lithograph collection without their permission and subsequently filed a lawsuit against him for violating copyright and trademark laws.
Mann told several media outlets on Monday about the latest Jackson family drama, "I believe that Katherine and the children who are benefactors of the estate fall on one side, and then Randy, Jermaine and Rebbie and Tito fall on the other side," Mann said. "They're a group of people who have a great deal of questions about the administration of the estate." Tito has since defected from trying to have the executors tossed.
Article continues below advertisement
Mann has a checkered background and was sued by bombshell Carmen Electra for over $400k for failure to pay her for several appearances she made for the Naked Women's Wrestling League.
A grief stricken Marlon revealed on The Insider, "We've been told that our mother is safe. She's doing well. But we have not spoken to her. We have not talked to her and I don't know where my mother is..." but vowed to go to Arizona and bring her home.