Exclusive
Jacko Kids Will Be Called As Witnesses In Doc's Trial; Daughter To Be Pressed On Drug Use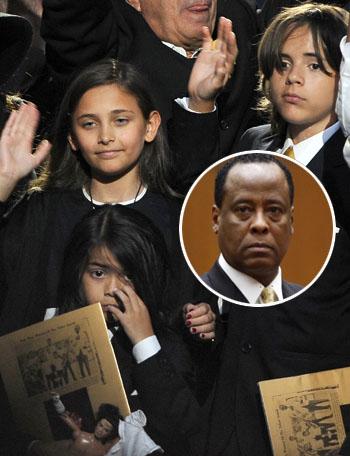 Doctor Conrad Murray plans to call two star witnesses in the manslaughter trial of Michael Jackson - two of pop legend's own children.
And the 57-year-old doc believes their testimony could help get him off a charge of involuntary manslaughter for giving Jacko a lethal sedative overdose.
RadarOnline.com has learned Jacko's kids, Paris and Prince, will be called as a defense witnesses over the death of their dad and will be questioned about specific statements supposedly made not soon after his death.
Article continues below advertisement
Dr. Murray, who has been charged with involuntary manslaughter, believes Prince, 13, and Paris, 12, will admit their father had long-standing drug addictions.
The source said: "After saying goodbye to her dad at the hospital, Paris said, 'My daddy is so cold again. He was always cold. He would sit by the fire to get warm. We were always afraid he would fall in as we was so close to the flames. He couldn't get warm. Now there he is... so cold."
The tearful comments were made in front of a group of people, RadarOnline.com has learned.
"Prince and Paris knew their dad relied on Dr. Murray to survive and knew their father adored him," said a source, familiar with the legal case.
"Their comments, if they back him, could save him from jail because it would work well in the eyes of a jury."
Murray, a cardiologist who was with Jackson when he died June 25, 2009, at his rented Los Angeles mansion, is accused of acting "unlawfully and without malice" in bringing about Jackson's death, according to a complaint filed by prosecutors.
Article continues below advertisement
The complaint said Murray acted "without the caution and circumspection required" when he administered a powerful sedative to Jackson in an effort to help him sleep.
Murray, who has pleaded not guilty, is due to stand trial next year.
If convicted, he faces as much as four years in prison.
The lawyer for Murray, Ed Chernoff, told RadarOnline.com: "No decision has been made as to what witnesses will be called and the last possible witnesses we would want to call would be the children."