Exclusive
EXCLUSIVE: 'Puppet' Katherine Jackson Being Controlled By Son Randy & Naked Wrestling Boss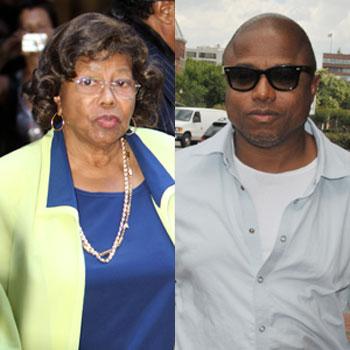 Katherine Jackson was persuaded by her son, Randy, to file the wrongful death lawsuit against AEG, RadarOnline.com has exclusively learned.
"Katherine didn't want to sue AEG for Michael's death," a source with knowledge of the situation tells us.
"Katherine was ultimately swayed by her son Randy to sue AEG.
"Most people assume that the lawsuit was Joe's -- and that Joe controls Katherine, but Randy has much more control of Katherine than Joe does.
Article continues below advertisement
COURT DOCUMENTS: Katherine Jackson To Debbie Rowe In Court Battle -- You Want Too Much
"Joe spends a majority of his time in Las Vegas.
"Randy lives in Southern California and sees Katherine at least 4-5 times a week."
The wrongful death lawsuit that Katherine filed against AEG stunned even her closest advisers who weren't notified about the action.
"Katherine has a couple of business associates that are independent of any Jackson family control or influence," said the source.
"Those associates weren't told about the lawsuit and were absolutely stunned, as they had advised her in the past not to sue AEG."
Michael's three children, who live at the Jackson family Encino compound, are going to have to endure their dad's name being dragged through the mud again, the source claimed.
"Michael's children are going to suffer the most because of this lawsuit," added the source.
"It's truly sad that they are going to have to go through this. The kids will hear unflattering things about their dad because of this lawsuit.
Article continues below advertisement
"They are the real victims in all of this."
Randy Jackson is responsible for introducing Howard Mann, the founder of the Naked Women's Wrestling League, to his mom.
Said the source, "It was Howard Mann's idea to have Katherine and Joe appear on The Oprah Winfrey Show.
"Katherine is for all intents and purposes a puppet for Randy and Howard for financial gain for the two of them.
"Katherine is biting the hand that feeds her by suing AEG.