7 Things That Are Wrong With Randy Jackson's Story!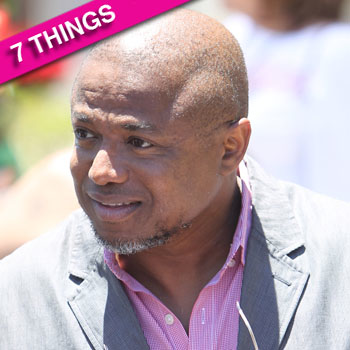 Article continues below advertisement
2. About 82-year-old mom Katherine, Randy said: "Her health was ailing and doctors ordered that she get immediate rest." RadarOnline.com exclusively reported though that Katherine Jackson passed a medical test with "flying colors" with her personal doctor ONLY a month ago. She was given a full clean bill of health both physically and psychologically.
3. "Paris and Prince know that they can visit with or talk to their grandma at any time," the Jackson 5 singer proudly boasted. But it was Paris who tweeted: "I haven't spoken to her (Katherine) in a week i want her home now. If anybody sees my grandmother, please call the authorities or this number— (818)-876-0186 it's the security number .. thank you so much." And only yesterday, Paris continued her Twitter plea: "8 days and counting. Something is really off, this isn't like her at all ... I wanna talk directly to my grandmother!!"
4. Randy said that he, Jermaine and Janet were denied access to "our home" by Trent Jackson and a security team when they attempted to take the kids with them to Arizona on Monday. However, he failed to mention that Paris, Prince and Blanket refused to go and that the house belongs to Katherine Jackson and has nothing to do with any of her children.
5. According to Randy, "The executors of the estate are using the children to try and put pressure on my mom." The phrase 'if it ain't broke, don't fix it' springs to mind. Paris, Prince and Blanket were happy under the supervision of Katherine and her nephew Trent, who acted like a guardian for the children AND had Michael's blessing to care for the kids.
Article continues below advertisement
6. Randy claimed that the estate executors were "trying to turn family members against family members." But, as we've pointed out before, not everyone in the Jackson family signed the siblings' letter to ask John Branca and John McClain to resign. La Toya, Marlon and Steven Randal Jackson all didn't sign. It was this letter that divided the family NOT the actions of the executors.
7. Lastly, Randy said: "This family is united to right the wrong." If that's the case then why are they all fighting!