Watch Out Karrueche! Paris Hilton Has The Hots For Chris Brown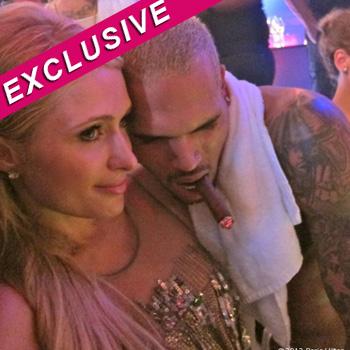 Things are heating up in the South of France!
Paris Hilton has the hots for Chris Brown, and doesn't care that he already has a girlfriend, RadarOnline.com is exclusively reporting.
After spending an evening partying in Cannes with the bad boy rapper, the 31-year-old heiress has decided that Brown will be her next conquest and isn't keeping her new crush a secret.
Brown, who brought his girlfriend, Karrueche Tran, as well as an entourage of pals, to the swanky French Riviera hotspot, got cozy with Hilton at Gotha nightclub on Wednesday – and Paris proudly flaunted the photos, tagging Brown in all of her Tweets.
Article continues below advertisement
"Paris thinks Chris Brown is hot and really wants to hook up with him," a source close to the heiress exclusively tells RadarOnline.com.
She likes bad boys, and he is bad to the bone."
"This is how we party in the South of France! #GoodTimes last night @ChrisBrown! ! ☺♡♫,"Paris tweeted, linking to a photo on her website of the duo nuzzling up to each other.
"So fun last night at Provacateur with @Whittles2 @HotForWords @AsherMonroe &crew. @ChrisBrown did an amazing performance! Love his songs!," she gushed about the rapper in another Tweet.
However, the source adds that Tran has no idea that Paris plans on stealing her man, and that part of her tactic has been cozying up to the model to get closer to the rapper.
"Paris has been pretending to be Karrueche's BFF and Karrueche is loving the attention," the source continues.
"This isn't Paris' first time at the rodeo and she knows how to use and manipulate other people to get what she wants.
Article continues below advertisement