Kris Humphries' Galpal Pregnancy Mystery: Tweets 'Look No Baby Bump!'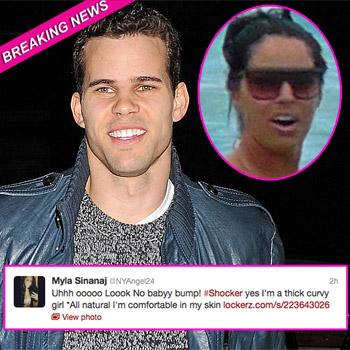 By Jen Heger - Radar Assistant Managing Editor
Is she or isn't she?
The mystery over Kris Humphries' galpal Myla Sinanaj's supposed pregnancy deepens, as the hotel worker just revealed on Twitter that she doesn't have a baby bump, and insinuates that she isn't even pregnant, RadarOnline.com is reporting.
Read Myla's Mysterious Tweets
As previously reported, Humphries will ask Myla, whom he previously accused of trying to extort him, to take a paternity test if she is indeed pregnant. "He will ask for a paternity test when the baby is born. He had been claiming that their relationship was pretty casual, that she was a 'booty call' girl," a source told the New York Post.
Article continues below advertisement
However, Myla Sinanaj made public statements on her Twitter Monday that seem to cast doubt on if she is really even expecting!
"Uhhh ooooo Loook No babyy bump! #Shocker yes I'm a thick curvy girl *All natural I'm comfortable in my skin," she wrote.
"What because I don't have fake boobs, fake ass, lipo, cellulite & laser treatments I'm fat? F*ck Yall! I'm natural baby! Worry bout the fake! This is something I should have done a long time ago but I thought keeping quiet & ignoring was best but enough is enough.