Exclusive
Kris Humphries Galpal Definitely NOT Pregnant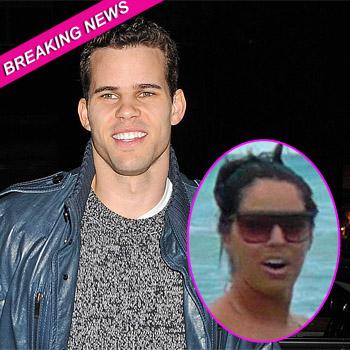 By Jen Heger - Radar Assistant Managing Editor
Kris Humphries galpal, Myla Sinanaj, who was reportedly pregnant with the NBA star's baby, just set the record straight and said she is definitely NOT going to be expecting a bundle of joy anytime soon, RadarOnline.com is reporting.
As previously reported, Sinanaj cast serious doubts Monday on reports that she is pregnant. "Uhhh ooooo Loook No babyy bump! #Shocker yes I'm a thick curvy girl *All natural I'm comfortable in my skin. What because I don't have fake boobs, fake ass, lipo, cellulite & laser treatments I'm fat? F*ck Yall! I'm natural baby! Worry bout the fake! This is something I should have done a long time ago but I thought keeping quiet & ignoring was best but enough is enough," she wrote on Twitter.
Article continues below advertisement
One web site reported: "Sources directly connected with Myla tell us Myla confirmed Monday that she's 3 months pregnant and says Kris is definitely the father."
However, Myla told a photographer on Tuesday that she is "definitely NOT pregnant. During the fourth of July, I Tweeted, a general Tweet, saying that one day I wanted to have kids, and someone just took that and ran with it."
Meanwhile, Sinanaj hired Joe Tacopina as her attorney after Humphries accused the hotel worker of attempting to extort him. However, "Joe fired Myla as a client several days ago. Myla no longer has an attorney," a source close to the situation tells RadarOnline.com.
"Kris is relieved that Myla isn't pregnant because he just isn't ready to start a family yet. What is frustrating to his lawyer is that he continues to talk to Myla, against his explicit advice NOT to talk to her. This is just the sort of drama that Kim Kardashian's lawyers would love to present at the divorce trial," a source close to the NBA star tells Radar.
Tacopina also had told Myla to sever all communication with Kris because he had accused her of allegedly trying to extort him. Myla continued to be in contact with Humphries and this was one of the reasons that Tacopina fired her as a client.