Exclusive
Dina Lohan Furious Over Charity Stiffing Accusations 'They Used Me, I Was A Sitting Duck'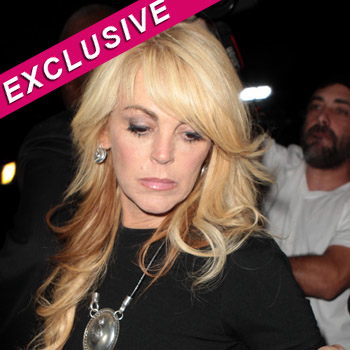 Article continues below advertisement
"They dined and dashed on a $2,500 check and didn't leave a dime for the waiters," a source told the New York Post. "The understanding was they would get four free tickets. Anthony stormed up at the end and said, 'What is this check for?' Organizers offered a reduced bill for around $1,100, but then they just upped and left without leaving a tip."
Dina claims though that there isn't one iota of truth to the accusations.
"I was asked to come to this charity event at the last minute and it sounded like a great cause," Lohan tells RadarOnline.com. "My brother was involved so I went. I was never given a bill, so I never ran out on anything.
"Everyone at the table was meant to be comped. The weirdest thing about it was I was invited for a sit down dinner, I did attend the party but I never even ate. I would never in my wildest dreams walk out on a bill or try to avoid paying a charity."
Article continues below advertisement
And when it comes to the claim that it was agreed Dina would be awarded only four tickets in total, she says: "I have no idea about the number of people I should or shouldn't bring because I was not at all involved in the promotional aspect of the event, I was invited as a guest and at the last minute and decided to attend.
"I was asked to attend this event with my friend Jill Zarin, there were no contracts involved. Jill and I had no idea this was going to happen. The entire story is an absolute lie and it saddens me that they would use this as a marketing ploy.
"It is horrible anyone would think of me doing something like this. The owner of the the restaurant made no comment, only because he couldn't.
"I will continue to support charities, this was not the charity it was the restaurant. They hired an outside publicist and all I can think of was it was spun and they used me, I was a sitting duck. They used me to get publicity -- this is ridiculous."
RELATED STORIES: