Just Say No! The Most Shocking Celebrity 'Druggie' Transformations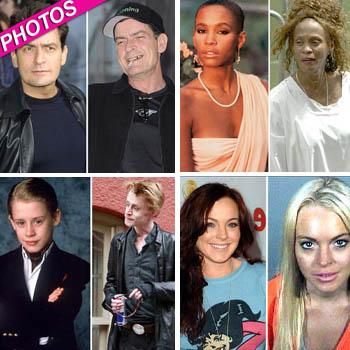 by RadarOnline.com Staff
Talk about an effective 'Just Say No' campaign!
From blockbuster stars to chart-topping singers, it's no secret that Hollywood stars have battled substance abuse problems in the past, especially because their looks have changed dramatically during their time of trauma. In a sobering feature, RadarOnline.com has photos of the 10 most shocking celebrity drug transformations.
Charlie Sheen has been a Hollywood bad boy for most of his life, but it wasn't until recent years that the former hunk's looks started to slip. Though he admits to still boozing it up, the actor claims that his drug days are over for good.
Article continues below advertisement
From Mean Girls to mug shot, Lindsay Lohan's wild ride of fame has been documented with not-so-flattering photographs that don't lie. The sweet-faced child has transformed before the public eye, and now she looks much older than her 25 years.
Corey Haim and Whitney Houston's shocking drug-addiction evolutions weren't enough to sober up the two stars, both of who passed away in recent years.
Home Alone child star Macaulay Culkin was busted for drugs in 2004, but it was photos that surfaced in 2012 that really had people worried. Looking emaciated and gaunt, the now 31-year-old star's rep shot down reports that he was back on drugs.
What other stars with drug-fueled pasts have gone through massive transformations? Find out by clicking here.