Jose Baez's Shocking New Claim: Casey Anthony Believed Her Dad Fathered Caylee And Killed Tot To Hide Abuse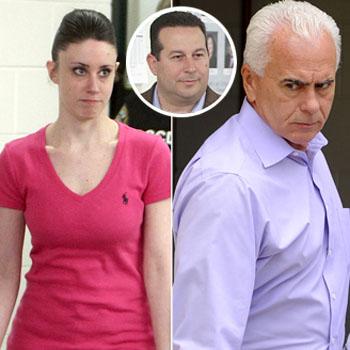 Article continues below advertisement
Baez first alluded to the scandalous allegations in his opening statements at the beginning of the infamous trial stating that George had sexually abused his daughter, a claim that George Anthony has vehemently denied.
"You will hear stories about a family that is incredibly dysfunctional, you will hear about ugly things, secret things, things that people don't speak about," Baez said in court.
The attorney also alleged that Casey, now 26, was concerned that George fathered Caylee because he had intercourse with her around the time she became pregnant. However DNA tests later carried out proved that George was not the father.
Although it emerged in the trial that someone in the Anthony household searched the internet for the hazardous chemical "chloroform," it was not revealed that a number of suicide-related searches were also made, Baez claims.
"Fool-proof suffocation" and "venturing into the pro-suicide pit" were among the terms looked up on the day that Caylee went missing but these details were not unearthed until later and jurors were never privy to this information, he says.
Article continues below advertisement
"I have a hard time believing that law enforcement wouldn't check the internet history of the day that the child went missing," Baez told Good Morning America. "That would have been bombshell evidence in the trial if it had come out."
Baez added that the searches were conducted about an hour after George said Casey had left home on the fateful day Caylee vanished.
Although it wasn't possible to prove exactly who made the searches, Baez alleged that it was easy enough to deduce who looked up what, especially because there were spelling errors, he claims, and George is known for his lack of grammatical skills.
As RadarOnline.com previously reported, George tried to kill himself about six months after Caylee's disappearance and just weeks after her remains were unearthed – he had OD'd in a Daytona Beach hotel and a five-page suicide note was found in the room.
"By looking at the websites being researched, all concerned with suicide and death, it certainly appears that the one who felt the blame was a guilt-ridden George Anthony," Baez asserts in his tome.
Article continues below advertisement
During the trial, the prosecution accused Casey of suffocating her tot with duct tape so she could go out partying but Baez maintains that Caylee accidentally drowned in the family's swimming pool and that George hid the body.
As previously reported, Baez says that detectives working the case should have realized that Casey was living in a "fantasy world," and that she was someone with "serious mental health issues."